U.K. & Irish Ch. Lynnsto Ultraviolet JW
Celtic Winner '11
"Violet"
4 x CC & 3 x Res. CC
2 x CACIB
8 x Green Star's &4 x Res. Green Star
2 x BOB
5 x Res. BOB
Sire: Ch. Krisma Streetwise
Dam: Highcrest Enya Dreams Lynnsto

D.O.B: 11/05/07
Violet is full of quality & elegance.
She has a spectacular outline & a sparkling personality to match
A joy to show and own !!!!!!
* In July '08 at only 13 months of age Violet gained her 1st Res. CC *
The second of our young dogs to gain a major award just out of puppy.
* 1st CC * - under judge Julie Farmer (Pepaby)
Thank you Julie Farmer for making our day -
Unfortunatley after a complaint by the Res. CC winner regarding moving Violet from Post Grad to Open the KC have taken her first cc away
* 2nd CC * - under judge Edith Hogg ( South Africa)
Thank you Mrs Hogg for the double ( Dog CC - Lynnsto Mastercard )
*3rd CC* - under Ann Bartlett (Dwelincia)
This is Violets 3rd CC, but we have to wait for the outcome of a complaint made by the Res. CC winner at Border Union to see if her first CC stands.
*4th CC* - under Paul Wilkinson
Violet is now an undisputed CHAMPION - thanks to all who thought so highly of this special little girl !!!!!!!!!!
*1st Green Star* - under judge Mr T Hehir
*2nd Green Star * - under judge Mr M Van Der Weijer
* 3rd Green Star* - under judge Mr M King
*4th Green Star* - under judge Mrs L Cox
*5th Green Star* - under judge Mr M Gavin
*6th Green Star* - under judge Mrs H Cox
*7th Green Star* - under judge Mrs G Hagstrom
Violet is now Irish Champion
*1st CACIB* - under Mr M Van Der Weijer
*2nd CACIB* - under Mrs M Kozlowska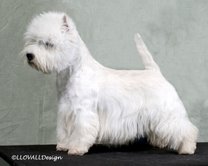 Her results so far in '08
Crufts '08 - 1st Special Puppy bitch + Res. Best Puppy
Scottish Breeds - 1st Puppy Bitch + Best Bitch Puppy
National Terrier - 2nd Puppy Bitch + 2nd Purina Pro Plan Pup of the Year Stakes (Judge Mr. G Corish)
WHWT Club of England Ch. Show - 2nd Puppy Bitch
WELKS Ch, Show - 1st Puppy bitch + BEST PUPPY IN BREED
( With litter brother Lynnsto Stand & Deliver Res. Best Puppy )
The National Ch. Show - 1st Puppy bitch + Res. Best Puppy
( With litter brother Lynnsto Stand & Deliver Best Puppy)
S.K.C Ch. Show (May) - 2nd Junior Bitch
Bath Canine Society Ch. Show - 2nd Junior Bitch
Southern Counties Ch. Show - 1st Junior Bitch
Three Counties Ch. Show - 3rd Junior Bitch
Border Union Ch. Show - 1st Junior Bitch
Blackpool (no tickets) - 2nd Junior Bitch
Windsor Ch. show - 3rd Junior Bitch
South Wales K A Ch. Show - 1st Junior Bitch + Res. CC
Leeds Ch. Show - 1st Junior Bitch
Bournemouth Ch. Show - 3rd Junior Bitch
Welsh KC Ch. Show - 1st Junior Bitch
City of Birmingham Ch. Show - 1st Junior bitch
Richmond Ch. Show - 1st Junior Bitch
Darlington Ch. Show - 1st Junior Bitch
Southern WHWT Club Ch. Show - 2nd Junior Bitch
Belfast Ch. Show - 1st Junior Bitch
Northern Ireland WHWT Ch. Show - 1st Junior Bitch
Bury Sporting Terrier Open Show - BOB + Res. Best in Show
2009
Crufts Championship Show - 2nd Special Yearling Bitch
Scottish Breeds Championship Show - 1st Post Graduate Bitch
National Terrier Championship Show - 1st Post Graduate Bitch
WHWT of England Championship Show - 1st Post Graduate Bitch
WELKS Championship Show- 1st Post Graduate Bitch + Res. CC
The Birmingham National Championship Show - 1st Post Graduate Bitch
Southern Counties Championship Show - 1st Post Graduate Bitch
Three Counties Championship Show - 3rd Open Bitch
Border Union Championship Show - 1st Open Bitch + Bitch CC
Windsor Championship Show - 4th Open Bitch
East of England Championship Show - 1st Open Bitch + Bitch CC
Leeds Championship Show - 5th Open Bitch
Paignton Championship Show - 4th Open Bitch
Bournemouth Championship Show - 1st Open Bitch
All Terrier Association Championship Show - 1st Open Bitch + Green Star
All Ireland WHWT Ass. Championship Show - 1st Open Bitch + Res. Green Star
SKC Chamopionship Show - 3rd Open Bitch
City of Birmingham Championship Show - 2nd Open Bitch
Darlington Championship Show - 1st Open Bitch + Bitch CC
Midland Counties Championship Show - 1st Open Bitch + Bitch CC