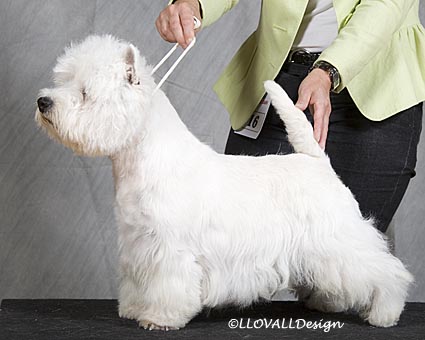 Burt at 2 Years Old

Irish Ch. Lynnsto Barclaycard JW (ShCM)
Celtic Winner '11
"Burt"
5 x Res CC
1x CACIB
7 Green Stars
1 Res. Green Star
4 BOB
D.O.B:- 15/07/08
Ch. Lynnsto Pellam JW (ShCM) x Lynnsto Soloist JW (ShCM)
Burt younger full brother to Ch. Lynnsto Mastercard has come out into the showring in style winning the Purina Pro Plan Pup of the Year Stakes heat at his first Championship show.
Burt gained his first Res. CC at Crufts 2010, his first class out of Junior !!
His second Res. CC at the next show Scottish Breeds.
Now qualified for the
N ational Terrier Open Show Dog of the Year '10
His wins so far:-
Dean & District Open Show - Best Puppy in Breed + Puppy Group 2
West Midland Terrier Association - Best Puppy in Breed + Best In Show Puppy 4
Scottish Breeds Championship Show - Best Puppy Dog + Purina Pro Plan Pup
of the Year Heat Winner
WHWT Club of England Championship Show - Best Puppy Dog
WELKS Championship Show - Best Puppy Dog & BEST PUPPY IN BREED
Manchester & District Sporting Terrier Open Show - BEST PUPPY IN SHOW
Lancashire Sporting Terrier Open Show - Res. BEST PUPPY IN SHOW
The Birmingham National Championship Show - Best Puppy Dog
Southern Counties Championship Show - Best Puppy Dog
Three Counties Championship Show - Best Puppy Dog & Best Puppy in Breed
+ PUPPY GROUP 4
Border Union Championship Show - 2nd Puppy Dog
Blackpool Championship Show - Best Puppy in Breed ( non ticket)
Windsor Championship Show - 2nd Puppy Dog
East of England Championship Show - 2nd Puppy Dog
Leeds Championship Show - 2nd Junior Dog
Paignton Championship Show - 3rd Junior Dog
Bournemouth Championship Show - 1st Junior Dog
SKC Championship Show - 3rd Junior Dog
City of Birmingham Championship Show - 2nd Junior dog
Darlington Championship Show - 1st Junior Dog
Burt gained his Junior Warrant on 11th October '09
&
his ShCM on the 11th April '10
2010
WHWT of England Puppy of the Year - Res. Puppy of the Year
DFS Crufts - 1st Post Graduate + Res. CC
Scottish Breeds Ch. Show - 1st Limit + Res. CC
National Terrier Ch. Show - 2nd Limit Dog
Manchester Sporting Terrier Open Show - BEST IN SHOW
WHWT of England Ch. Show - 4th Limit dog
WELKS Ch. Show - 2nd Limit Dog
The Birmingham National Ch. Show - 3rd Limit Dog
SKC Ch. Show - 1st Limit Dog
Bath Ch. Show - 1st Limit Dog
Southern Counties Ch. Show - 2nd Limit Dog
Border Union Ch. Show - 4th Limit Dog
Windsor Ch. Show - 2nd Limit Dog
East of England Ch. Show - 2nd Limit Dog + Res. CC
Leeds Ch. Show - 2nd Limit Dog
Southern WHWT Club Ch. Show - 1st Limit Dog + Res. CC
Paignton Ch. Show - 2nd Limit Dog
Clonmel & Dist. - 1st Open Dog + GREEN STAR & BOB
City of Birmingham Ch. Show - 5th Open Dog
Richmond Ch. Show - 3rd Open Dog
WHWT Club Ch. Show - 2nd Open Dog
Portadown Canine Club - 1st Open dog + GREEN STAR & BOB
2011
Manchester Ch. Show - 4th Open Dog
St. Patrick's Day - 1st Open Dog + GREEN STAR & CELTIC WINNER
Scottish Breeds Ch. Show - 2nd Open Dog
WELKS Ch. Show - 4th Open Dog
SKC Ch. Show - 3rd Open Dog
Bath Ch. Show - 3rd Open Dog
Southern Counties Ch. Show - 4th Open Dog
Windsor Ch. Show - 2nd Open Dog
Paignton Ch. Show - 2nd Open Dog + Res. CC
All Ireland WHWT Club - 2nd Open Dog + Res. Green Star
Clonmel & District CC - 1st Open Dog + GREEN STAR
Int. All Breed Ch. Show - 1st Open Dog + GREEN STAR & CACIB
2012
Munster C.A. All Breed Ch. Show - 1st Open Dog + GREEN STAR & BOB
Cork & District All Breed Ch. Show - 1st Open Dog +
GREEN STAR & BOS
Now New Irish Champion
(Subject to IKC confirmation)


Burt - August 2011



Burt Res. CC Winner DFS Crufts 2010



Burt at 10 months



Burt at 10 months



Burt at 7 months



Burt Crufts 2010



Burt Crufts 2010



Burt - WHWT Club of England Res. Puppy of the Year '09



Burt turned to drink !!



Burt at 9 months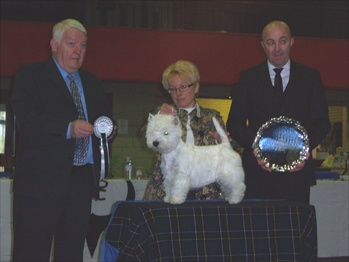 Burt - Purina Pro Plan Pup of the Year Heat Winner
Pedigree Of Lynnsto Barclaycard
| | |
| --- | --- |
| Sex | Dog |
| Breed | West Highland White Terrier |
| D.o.B | 15/07/2008 |
| Breeder/Owner | Mich Dale |
Parents
Grandparents
Great Grandparents
Great Great Grandparents
Champion Lynnsto Pellam JW (Sh.CM)
West Highland White Terrier
U.K , Irish , U.S , Int. Champion & World Winner `03 Ariostea Pilgrim to Ashgate
CH Wikeland Connor
CH Trewen Discovery
Ashgate Torsa
CH Ashgate Sonsie
West Highland White Terrier
Standard
CH Bellevue Special Attraction of Ashgate
Ashgate Skerry
Roscafin Arrina At Lynnsto JW
West Highland White Terrier
Standard
CH Ashgate Sinclair
CH Ashgate Lenzie
CH Ashgate Sallachy
Ashgate Lunna at Roscafin
West Highland White Terrier
Standard
CH Ashgate Ivanhoe
CH Kyntilly Highland Wisdom at Ashgate
West Highland White Terrier
Standard
Lynnsto Soloist JW Sh.CM
West Highland White Terrier
Ashgate Leny 2 Res. CC
West Highland White Terrier
CH Ashgate Leckie
CH Ashgate Achnasheen
CH Ashgate Shegra
Ashgate Skirza
CH Ashgate Sinclair
Ashgate Therwasalass
Lynnsto Princess Aurora
West Highland White Terrier
Kieran Cestrum
West Highland White Terrier
Shantallah Paper Chase
Royal Charmayne
Sharrodlea My Fair Lady of Lynnsto
West Highland White Terrier
Newsprig Highland Dougan
Newsprig White Heather
Produced using Breeders Assistant for Dogs software (tel: 0870 870 7740), Trial Edition licensed to Mrs M Clarke