Article in
The Staffordshire Evening Sentinel Newspaper - Aug '08
BEST IN SHOW: An award winning dog groomer has competed against dozens of her
peers and come out on top. Mich Dale has won £1000 in the National Premier Groom contest in Leeds. There were six categories and she won the hand stripping section.
and was crowned overall winner of the show with her Champion West Highland White Terrier, Aaron. Miss Dale runs her own grooming business POOCH PERFECT in Talke.
She said: "Hand Stripping is a very specialised part of grooming which involves plucking out the hair. If done properly it is not painfull to the dog at all. This is the first time I entered the Premier Groom contest and it's been a great experience."
Article in Dog World - Aug '08
Mich Dale of the Lynnsto Terriers took BEST IN SHOW with a West Highland White Terrier at the first Premier Groom competition which took place recently. She beat 47 other competitors on her way to the title.
The competition which was organised by Groom Team England and Red Cape with the BIS prize money of £1000 sponsored by WHAL UK, is aimed at giving people a chance to develope their grooming skills and to encourage more beginners into the competition ring.
It also raises funds for Groom Team England.
Classes were judged by Jitka Krizova, Su Eld-Weaver and Colin Taylor, and special judges were Alison Rodgers and Peter Ensell who judged the beginners class.
All competitors received a groomer's bag from WHAL. All first place winners received £50, a plaque and Les Pooch groomer pack, plus a trophy. Second and third places also received prizes.
First in the Hand Strip class was Mich Dale, second was Steve Richardson with a Minature Schnauzer and third was Louise Tandy with a Wire Fox Terrier.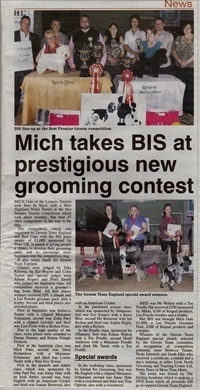 Article published in
"Aiken No Tomo Dog Magazine" - Japan '07